Explore Products
Bold Expressions for the Extraordinary
The eclipse table is modern functional wall art designed to provide a space conscientious dining or work area.
It's lightweight, effort-neutral, ergonomic design combined with endless custom options makes it versatile and easy to use.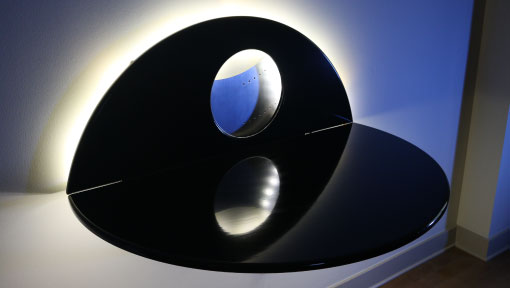 Materials
Top Material
Bamboo, recycled wood and compact laminate
Details: eco-friendly bamboo, high-density MDF from recycled wood and compact laminate
Base Material
Aluminum tooling plate, 17-4 Stainless Steel, Nickel Teflon plating, Igus plastic bushings.
Details: MIC 6 Aerospace Grade Aluminum tooling plate, 17-4 PH Stainless Steel bar, Nickel Teflon plating, IGUS plastic bushings.
Features
Effort neutral ergonomic design
Extremely customizable
Aerospace-grade materials
Chemical and environmental resistance
Suitable for outdoor use
Weight and Dimensions
Overall
47" L x 47" W, table reach 32"
Optimal Height:  41" to 42"
Adjustable Height: Yes – determined by installation
Overall Product Weight 38.34lb.
Specifics
Floor to Apron: 41" recommended.
Recommended Seat Height: 28" to 31"
Teles Taxidi Photos and Video
The Teles Taxidi is a technological wonderment. Using elements from the earth itself, along with human design, it creates curiosity and awe as it dances between the tangible and the invisible.
The top of the table floats nearly 2 inches above the bottom, defying gravity by harnessing the power of two massive rare-earth magnets. The magnets, balanced one over the other, are held in place by 1,000 pound test Kevlar™ cord, while the unique two-tier cable system allows the magnetic forces to be leveraged against the glass top in a way previously never imagined. Each table is designed to last lifetimes, and is made from aerospace grade materials, precision-machined, then assembled by hand, making it more than a piece of furniture, and more than art. No two tables are the same, and each one is individually named and serialized.
Your guests will be fascinated by this unique conversation piece. Its presence in any room is undeniable, creating a sense of wonder and curiosity. You may choose to explain the physics and technology behind the secret of Teles Taxidi — or you could simply give a knowing smile, and say, "Magic."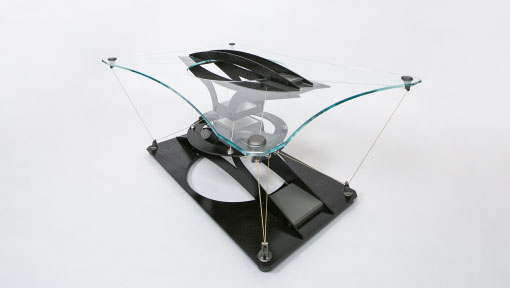 Materials
Top Material
STARPHIRE Ultra-Clear Glass
Details: Starphire glass contains less than 10% of the iron present in conventional glass. Unlike conventional glass, which becomes progressively greener as thicknesses increase, Starphire glass gains a distinctive light blue edge.
Base Material
Aluminum, steel, titanium, rare-earth magnets and stainless steel
Details: 6" X 6" X 1" Rare-earth high power magnets, aircraft grade 6061-T6 Aluminum, 17-4 Stainless Steel, A36 Steel Plate, TI 6AL-4V Titanium Plate.
Features
Top levitates nearly 2" above its base
Two-tier cable restraint system
High power rare-earth magnets
Specifications
Weight and Dimensions
Dimensions: 56″L x 38″W x 21″H
Adjustable height – no factory set
Overall Product Weight: 186 lb.
Assembly and Warranty
Assembly Required: Shipping bracket removal
Tools Needed for Assembly: Allen Wrench (included)
Product Details
Country of Manufacture: USA
Product Care: Clean with a cloth and warm water
DISCLAIMER
Pace-makers may be damaged or switch to "Test Mode" in the presence of a strong magnetic force. If a pace-maker or other electrical body implant is in use, it is recommended to keep a distance no less than 3 feet
Shipping
Shipping Availability: Continental USA
Shipping Time: 7-11 weeks
Return Policy: Final sale, not eligible for return